---
Well, it was a bit of an interesting experience, and experiment to be honest.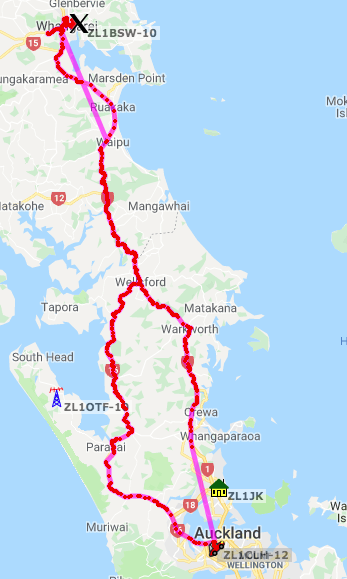 Here is a track of my drive, as you can see, I had two little oddities with leaving home till just before Whangaparaoa and heading home till just before Waipu.
Not sure what's going on there but restarting Direwolf seemed to have corrected it for both issues – so it might have been an issue with it swapping Wireless networks or something else, but there was nothing to indicate an error – perhaps the iGate servers do not like a change of IP address without a disconnection – but I am sure I can work it out over time.

I did not Digipeat any traffic on the drive north, and just to put that into perspective,
the last packet on the drive north to be pick up by an RF station was:

2019-07-27 07:55:56 NZST: ZL1CLH-12>APDW15,WIDE1-1,WIDE2-1,qAR,ZL1AOX:!/`uGSzZun>+TG/A=000549

And the first packet to be re-aquired by an RF station on the drive north was:
2019-07-27 09:02:01 NZST: ZL1CLH-12>APDW15,WIDE1-1,WIDE2-1,qAR,ZL1BSW-10:!/`c,xzU_u>&RG/A=000982

Total time of 01:06:05 when I was in TCP/IP land only – and in that time no other stations were heard.

But as you can see from the following, there were not too many APRS users attending the sale – but the sale was well represented – and some very good equipment was brought by everyone.

The Cars with APRS at the sale: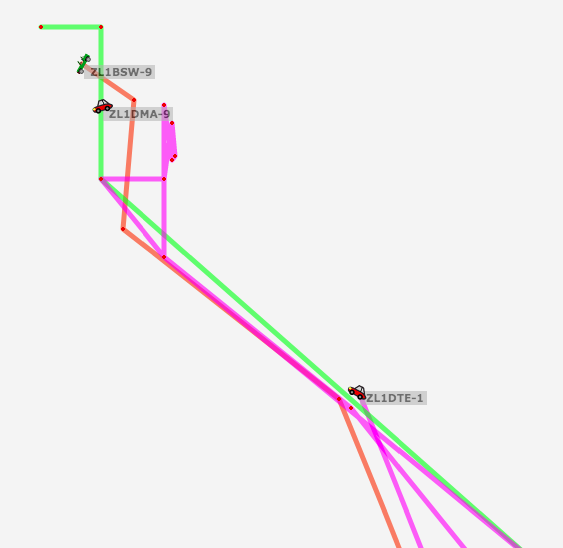 The tracks they made to attend the sale: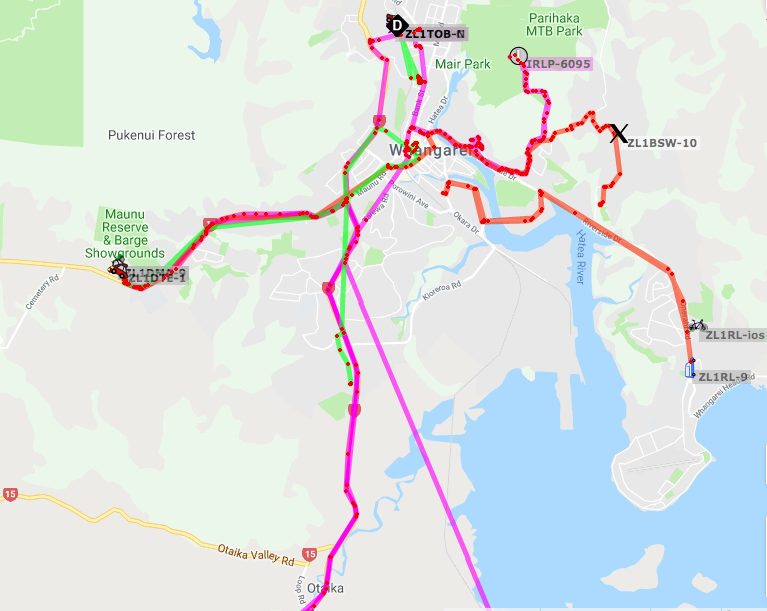 The pink line was mine in both directions, with me going wild through the water on my return leg home.

Worthwhile I have to say – but also a little disappointing.
In a few weeks there is a sale on in Hamilton (South of Auckland) so might try this again then, and see if I get better performance on the south bouth destination.

But I had so much fun attending this sale (my first one in this region) and will attend again next year.